Less because this is an interesting photo or even because I think the exterior of this building is all that compelling, I'm choosing the Cosmo this week because this week they've unveiled a new Web site and shed some light on their upcoming rooms.
Cosmopolitan of Las Vegas opens December 15th - see you there?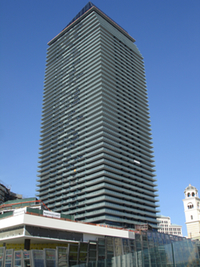 As of this afternoon, Vegas Mate for iPhone v2.6.1 is in the App Store. If you have a chance, please submit a review via iTunes - even if you've done it before, it's a huge help as each update resets the slate.
Here's an update on this new version and what's coming in the future:
iOS 4 Support
In this first iteration, this basically means support for fast-app switching. Future versions will include more iOS 4 specific features - more about that below.
Monthly Content Updates
Vegas is a fast moving place and an app like Vegas Mate is most useful when it's fully up to date. In the almost 22 months that we've been in the App Store, I've worked very hard to make sure this is the case. Over that time, there have been some times when I've been more successful than others but the goal has always been the same.
Starting with v2.6.1, these content updates can be delivered to the app outside of the iTunes App Store update process. When a content update is available, the app will prompt the user to download a new package of content. I actually attempted this before with version 2.0 - turns out the setup I engineered for that version really didn't work very well - it was way too hard to package content updates. This time around, it's really simple.
The goal is monthly content updates, irrespective of app feature updates. I've lined up some help to make this possible. I still plan to add features but in the past I've felt pressure to ship releases in an effort to get content updates out as well. No longer.
I think this is going to go a long way to making the app more useful for most people.
What's Next
So, those are the two big changes in 2.6.1...
Of course, I couldn't resist tinkering with a few things - I added some more UI enhancements, such as some animations, additional icons and a new high-res icon for the iPhone 4 Retina Display. Since I now have an iPhone 4 in hand, I can see that there's more work to do to make the app really look great on the new phone - that'll happen in the near future.
The app will not ask for reviews after a few uses. I tried to make it as unobtrusive as possible - if you say no, you won't be asked again.
Vegas Mate 2.7 Will Be iOS 4.0+ Only
This new shipping version is likely to be the last one that runs on iPhone OS 3.1. There are too many improvements in iOS 4 to ignore - I want to embrace them fully. Beyond that, I can probably reduce the codebase by 20% by re-writing some aspects with new platform features.
iOS 4 is a free update for supported devices. For folks with an original iPhone or iPod touch, you won't be able to upgrade your OS and thus you won't be able to proceed past Vegas Mate 2.6.1. The new content update system means that you'll still have access to content updates though, at least for the foreseeable future. I can't promise they'll be supported forever though. Of course, the existing app will continue to run on your hardware.
Next Up for iPad
I've thought a lot about what's up next for the iPad version of Vegas Mate. In the immediate term, I'd expect an update that includes the new content update functionality in the current iPhone version.
After that, I'm going back to the drawing board to design a release that will probably be a big change from what you see now. I have an unfulfilled vision for that product and it's getting closer to being time to implement it.
Summing Up
I'm very excited about what's next for both apps. I'm having a hell of a lot of fun working on the products.
There's really nothing like getting an email from a customer saying how much they love the product. It really makes my day.
Jeff Simpson is back with his second at-bat, this time with a piece that examines a long-standing Nevada law: treating marker debt as a bad check if they're not repaid.
In addition, a few anecdotes on the state of the industry with comments on the Trop and Aria - keep reading after the jump for Jeff's latest.
Enjoy!
Podcast-a-palooza - dates coming very soon. Sorry for the delay.
* Wynn Resorts: Layoffs and Resort Fees
* MGM Resorts International and CityCenter Performance
* LVRJ and Righthaven File Lawsuits
* Vegas Gang 'Sure Bets'
Check out the show: http://www.vegasgangpodcast.com
Feel free to leave your comments below. If it's a question that you want asked on the show, please make that clear in your post. You can also send those to editor@ratevegas.com.
Caesars Palace - a Las Vegas classic and perhaps the best known gaming brand in the world.
Inside, constant expansion has made the place a confusing labyrinth but from the outside, it's a lot of fun to look at.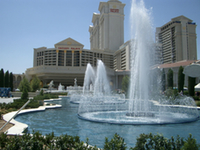 Or something like that... Yes, the name change is now approved by shareholders:
MGM Mirage will now be known as MGM Resorts International. Do I change all my category URLs to match? I haven't decided yet but it's certainly annoying.
Lots of coverage of this elsewhere but I thought it was worth posting here as a bit of a benchmark - it's an important date in the history of the company and Las Vegas.
Of course, I'm already on the record as not being a fan of the new name, along with everyone else I've talked to about it. Whatever.
Read More:
http://www.vegastripping.com/news/news.php?news_id=3342
http://www.lasvegassun.com/news/2010/jun/15/mgm-mirage-changes-name-now-mgm-resorts-internatio/
I'm very happy to present the first installment of Jeff Simpson's new column, 'Simpson on Vegas'. Every other week or so, Jeff will offer his opinions, insight and commentary. I'm looking forward to it and so should you.
This first time around - do you think that Las Vegas operators are doing enough to lure in new (and existing) customers? Where are the next generation volcano, pirate show and fountains?
Continue reading after the jump and leave your thoughts in the comments.